WideBand's patented technology can help bring network latency in your lab closer to zero than ever before with an easy-to-use device known as the Nano-latency Concentrator.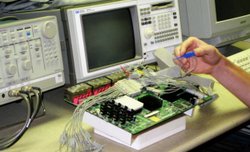 Hardware-in-the-loop (HWIL) and other latency sensitive simulation environments have long been limited by the realities of an often unpredictable communications platform.
WideBand was recently selected by the U. S. Army Aviation and Missile Research Development and Engineering Center (AMRDEC) to develop a next generation rapid communications platform to reduce network latency in hardware-in-loop environments. The first 10 Gigabit products based on this work are shipping now with 100 Gigabit products planned in the future. WideBand's Nano-latency 10 Gigabit products enable labs with:
Port-to-port latency under 100 nanoseconds
Self-optimizing, plug-and-play design
Standards compliance for extensive compatibility
In the HWIL environment, multi-node connectivity latencies ideally would be at or near zero to prevent the masking of properties of equipment and protocols being tested. As the performance of equipment and protocols being tested improves, the latency of connectivity begins to mask and, in some cases, even distort test results to the extent that meaningful scientific conclusions regarding the items being tested are difficult to achieve. WideBand Low Latency Networking (WLLN) provides significantly lower latency and greater accuracy than InfiniBand and other technologies.
Get Started
– Learn more about WideBand Nano-latency 10 Gigabit Ethernet Concentrators
– Call 888-663-3050 or Email Us for more information.