WideBand has been a leading manufacturer of Gigabit-over-copper networking since 1994 and was a developer of the first pre-standard products. When the standard began to be formed, WideBand Corporation was an active member of the steering committee that developed the technologies found in today's IEEE 802.3ab Gigabit Ethernet. Many of the underlying technologies of the standard, including the method for full duplex transmission and the elimination of data collisions, were originally developed at WideBand.  More about WideBand
WideBand products are made in the USA to the highest quality standards and possess a uniquely robust signal that allows full Gigabit bandwidth even on less than perfect installs of Category 5 and 5e cabling. WideBand can deliver Gigabit connections up to 200 meters on Category 5 cable and 100 meters over Category 3 cable.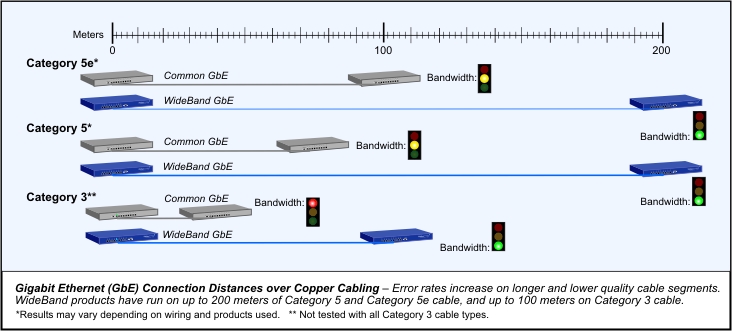 The WideBand Difference
Most Gigabit Ethernet products require optimum wiring environments with Category 5e or higher. While these products often still connect in less than perfect environments, the result is a number of retransmissions. Just a 1% retransmission rate reduces the bandwidth by 80% (see chart). WideBand products are WGNA Certified to work on all types of Category 5 at 100 meters with less than 1 bit per million error rate. This means the full Gigabit of bandwidth can be delivered Without Rewiring.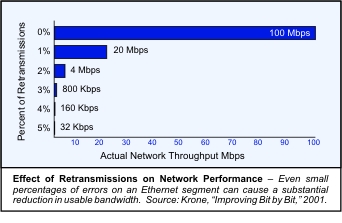 Download the Gigabit Ethernet Without Rewiring White Paper (.pdf)