WideBand Nano-latency Concentrators allow you to stream full HD video feeds with blazing fast 10 Gigabit per second Ethernet that is adaptable to most video editing and storage systems.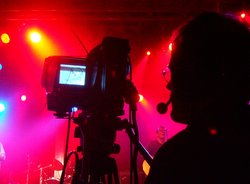 Whether in the editing room or in the field, high definition video streams and advanced computer graphics are taxing today's video editing networks. Post production teams are turning to 10 Gigabit Ethernet for the raw bandwidth and compatibility they need for a competitive edge in processing time. WideBand's 10 Gigabit Ethernet network solutions enable professional video editing companies to:
Speed up file copy and loading times
Increase productivity
Gain network bandwidth to stream HD video
Why Nano-latency for Post Production
Traditional network switches introduce varying levels of network jitter and latency which can cause troublesome issues including lost frames and jerky video. WideBand's patented Nano-latency technology provides ultra-low-latency and extremely low jitter, ideal for streaming media environments.
Connecting Servers and Workstations
For systems that do not already have a 10 Gigabit Ethernet SPF+ port, PCIe adapters with one or two ports can be added.
Experience the Full Power of Thunderbolt on Mac
Thunderbolt to 10 Gigabit Ethernet SFP+ adapters are available from multiple manufacturers and provide an easy way to connect your MacBook Pro to the WideBand Nano-latency Concentrator.
Industry-leading Performance, Made and Supported in USA
Since WideBand Concentrators are designed, built, and supported in-house, you can be assured that not only will you receive high quality products, but some of best support in the industry as well.
Get Started
– Learn more about WideBand Nano-latency 10 Gigabit Ethernet Concentrators
– Call 888-663-3050 or Email Us for more information.